A new production for young audiences 2021
CommUne Utopie welcomes its audiences to a joyful discovery of performance and contemporary dance by sharing a participative, sensory, and collective form of the art of movement. The production was inspired by scored for Parades & Changes by the choreographer Anna Halprin and takes young audiences into the heart of the notion of utopia. 'Making' is the core of this piece: children are invited to take part in the process of composition and to devise new versions and pathways starting from the various gestural, sound, artistic, and lighting elements that make up the performance. The children are also invited to join in at key moments in the performance.
CommUne Utopie uses games and their rules, surprises, and transgressions to invent unprecedented ways of being together within a perpetually transforming relationship with the space and the audience.
CommUne Utopie is a game of invention and speculation: 'What if art were a game, and theatre were an adventure playground? What if our everyday actions were dance? What if we could change the speed of time, the size of space, the sound of silence, and the movement of still objects? What if, together, we could make our dreams come true?'
The project was inspired by Parades & Changes, created by the American choreographer Anna Halprin in 1965. The revolutionary choreographer, who died at the age of nearly 101 in 2021, created a profoundly innovative body of work during a career spanning over seventy years. Anna Halprin's work launched a radical transformation of choreography in the 1960s, by exploring creative process with artists of all disciplines, bringing everyday gestures into the field of dance with her celebrated 'tasks', working with large groups of amateurs in the heart of nature or in the centre of cities, mixing art with life, and focusing on the transformational power of dance in the face of social and political questions. Revisiting Anna Halprin's work today opens up an endless supply of enriching possibilities.
Anne Collod recreated Parades & Changes in 2008, with the title Parades & changes, replays. With CommUne Utopie she goes deeper into her reinterpretation of the work, reinventing scores to experiment with new futures for and with children.
'I believe that Parades & Changes is highly emblematic and offers an inexhaustible supply of relevance and richness. Halprin also strengthened my determination to make collective utopias an anchor for my work. Through a series of daily tasks Parades & Changes creates a sensory and poetic journey that transforms our perceptions and reveals the extraordinary dimension of the everyday. The show is based on enjoyment, playfulness, and doing things together, and it is structured around a series of scores (sequential orders of activities) that deepen awareness of movement and sharpen the focus on the evolving images and emotions linked to movement. Ever since I first re-created the show in 2008, I have never ceased to be inspired by its transformational and transdisciplinary dimensions, the interplay of limitations and liberty arising from the scores, and the constant questions that the show raises about movement, being together, and the creative process.' – Anne Collod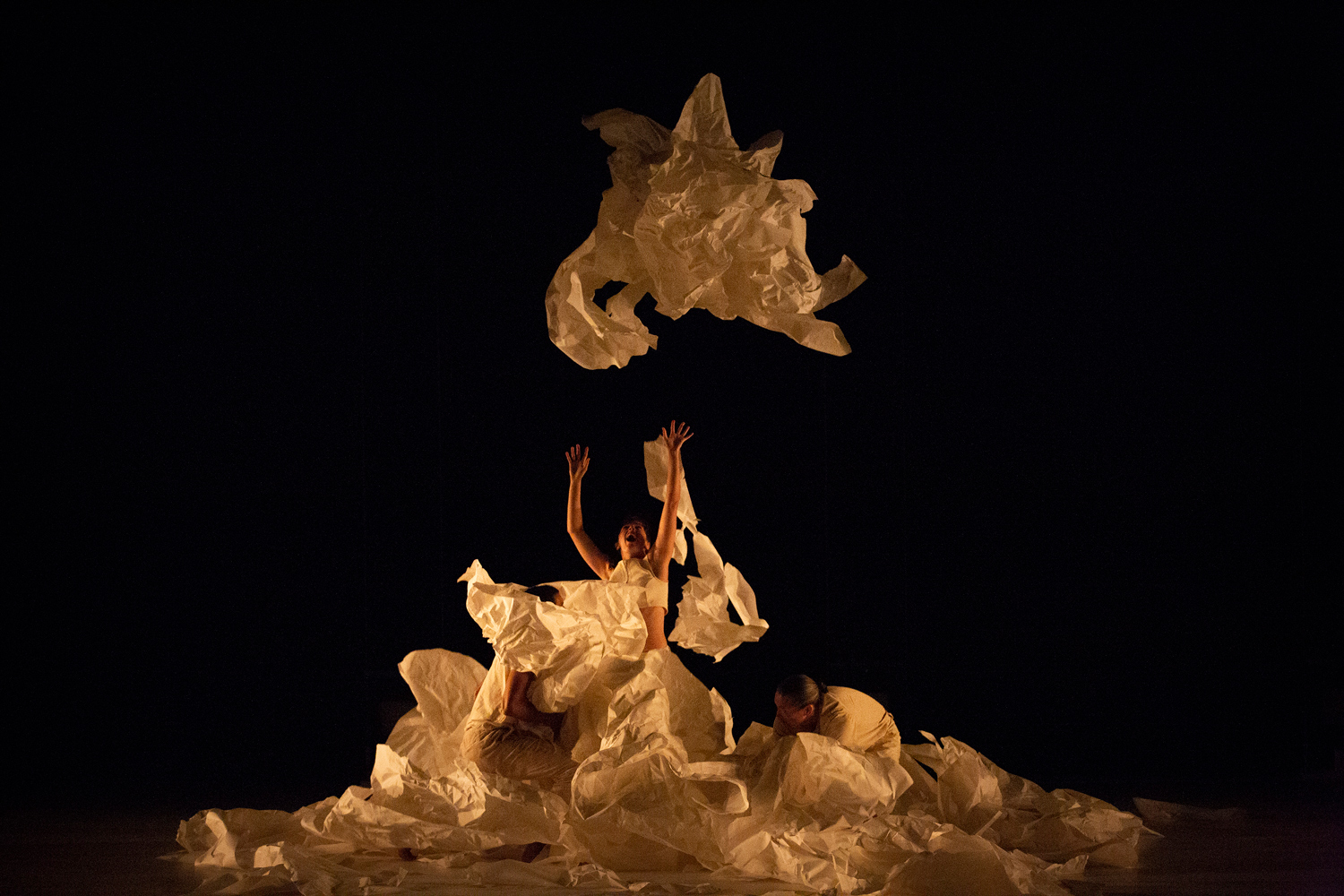 Conception and artistic director: Anne Collod
Choreography: Anne Collod in collaboration with her dancers, based on scores by Anna Halprin Performance: Sherwood Chen, Zoë De Sousa, Calixto Neto
Sound design: Mathias Delplanque based on the original music by Morton Subotnick –
Music played by: Jean-Christophe Baudouin
Lighting Design: Henri-Emmanuel Doublier
Lighting: Leslie Horowitz
Set, costume and accessory design: Rachel Garcia
Costumes made by: Lucie Lizen
Stage manager: Ramon Lima
Administration, production and distribution: La Magnanerie - Victor Leclère, Anne Herrmann, Martin Galamez, Lauréna De la Torre and Sarah Bigot. – Many thanks to the whole team at Nîmes Theatre
Production: association …& alters
Coproduction: Nîmes Theatre - scène conventionnée danse; Le Gymnase, CDCN, Roubaix, Hauts-de-France; Le Pacifique, CDCN, Grenoble, CCNO Centre Chorégraphique national, Orléans; Points communs, new scène nationale, Cergy-Pontoise; Escales Danse, Réseau conventionné danse et territoire with a creativity grant from the Conseil Régional d'Ile-de-France and the support of ADAMI.
The association … & alters receives support from the Regional cultural affaires directorate (DRAC) for the Île-de-France, via a structuration grant.
8th to 10th November 2021, New production at Nîmes Théâtre, scène conventionnée
6th December 2021, Le Gymnase CDCN, Roubaix
8th to 9th December 2021, Le Pacific, CDCN, Grenoble
14th to 18th January 2022 - Orléans Theatre, Scène nationale
15th to 16th February 2022, Points communs, New scène nationale, Cergy-Pontoise
14th April 2022, La Maison, CDCN, Uzès, Gard, Occitania
21st April 2022, Centre des Arts, Enghien-les-Bains, scène conventionné
31st May to 3rd June 2022, Paul Eluard Theatre, Bezons, scène conventionnée